Cart (

0

)
Recently Added

0

Item
Total

$0.00
The item you just added is unavailable. Please select another product or variant.

Cart (

0

)
Recently Added
Total $0.00
The item you just added is unavailable. Please select another product or variant.
Owner & Creator of Wholistic Jewels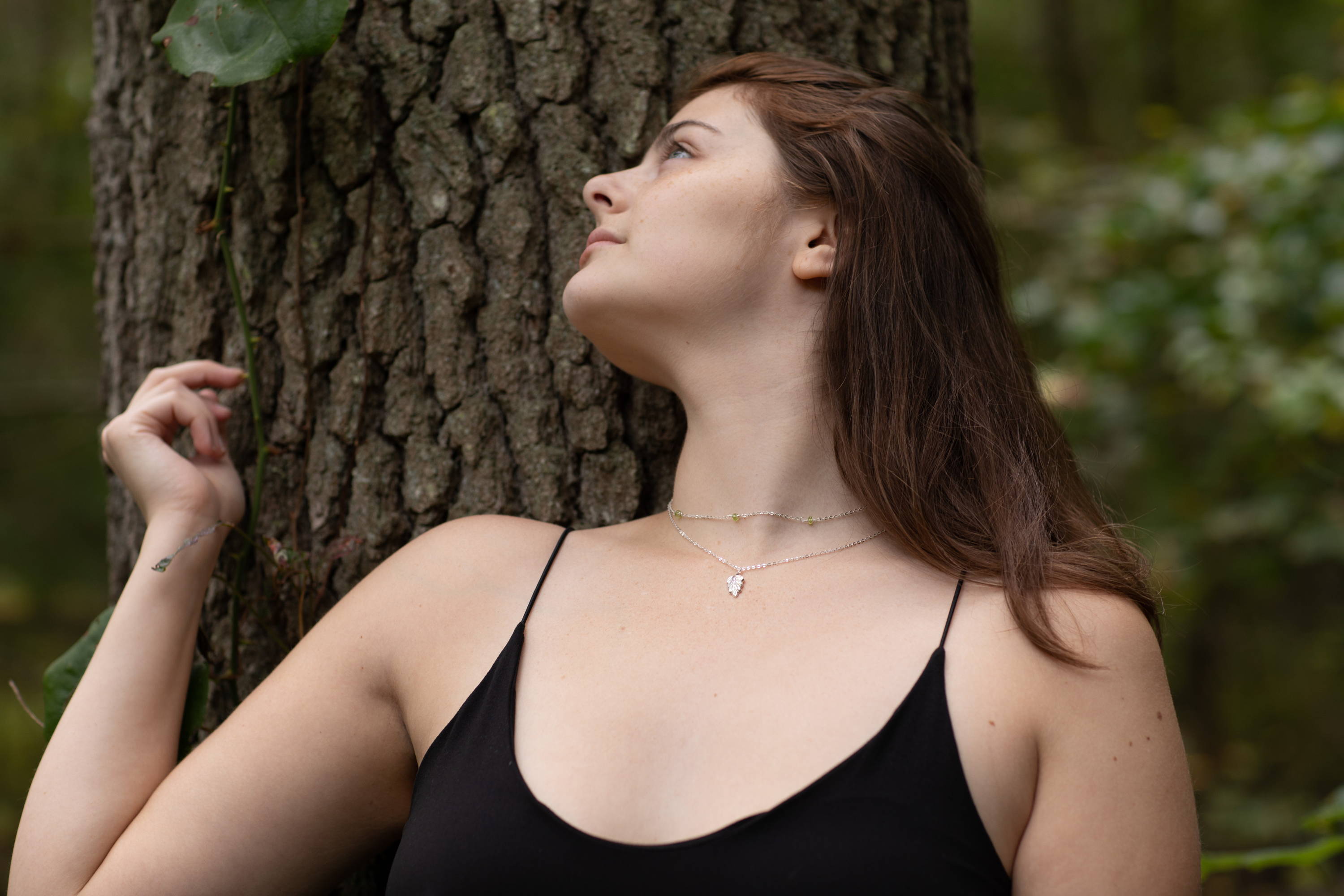 Model For: Forest Collection & Moon Collection
Birthday: September 18th (Virgo)
Ethnicity: Russian, Irish, Polish & French Canadian
1. What is your favorite color?
Periwinkle
2. What are 5 things you can't live without?
Water, love, happiness, nature, and food
3. Describe your perfect day.
Ideally, I feel best when I feel accomplished. So the day would have to include something productive towards my business, like a photoshoot. While including that, if it was Spring or Summer, I would go on a bike ride with my boyfriend and friends, then have a picnic in a nature spot after. If it was Fall, my best girlfriends would get pumpkin spice coffee, go apple picking, eat cider donuts & drink hot apple cider. If it was Winter, trying to look on the bright side (because I hate the cold), I would say snuggled up with my boyfriend by a fire making smores under the stars.
4. What is something you've always wanted to do and have not done yet?
Travel to Hawaii
5. Who is your biggest inspiration and why?
Right now Grant Cardone & Gary V are big inspirations of mine. But overall I would have to say, my mom. She started her own business in a field different than one she got her degree in; she did not stick to the status quo. She is so supportive, cool, and just overall awesome. It took me a while to appreciate her the way I do now. She let me learn my own mistakes and encouraged me to be a little wild in my teens (even though I was never wild). She is ambitious and after her workday is over, she continues to work on her passions.
6. What accomplishment of yours are you most proud of?
I would say being able to get out of the bubble of conventional thinking, and being able to put myself first. Taking risks while I am young and working hard at what I know I want, every day.
7. What is one major challenge your life has given you?
Have you overcome it or are you still working on it?A major challenge that I continue to face is my problem with communication. I am not sure why, but I have always had a hard time being upfront with my emotions. In the past, this has to lead me to allowing myself to be walked all over, lowered self-esteem, relationship problems, toxic continuous relationships, and deep regret. This is something I have not completely overcome, but I have improved on so much on throughout the years. I find it is best to speak your mind as soon as possible to avoid all the ugly things that come with not speaking your mind and telling someone when something they did wasn't okay. My confidence has increased greatly throughout the years of getting better at this. Not speaking your mind leads to internal fire, anger, and honestly is like hell on earth. You're only hurting yourself. Screw that.
8. What is your dream job?
My dream job is one where I never have to give up that inner child who is imaginative, adventurous, passionate and exploding with visions of creativity. This is what Wholistic Jewels has done for me.
9. In what conditions are you happiest / feeling most alive and aligned with your purpose?
When I am walking in nature getting creative visions to use for Wholistic Jewels. Also, regular exercise, lots of smoothies,